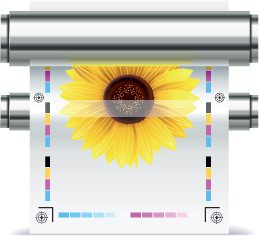 Today's PrePress & Press
Every printing facility has seen their prepress departments change drastically since the 90s. We were pioneers in embracing an all-PDF workflow, at a time when our competitors were still taking-in Quark files, and InDesign was still code-named "K2". Digital printing was in its infancy, and print still required developing film with chemicals. And painfully slow modems beeped and dialed to connect computers with 14-inch screens, 80MB hard drives, and a whopping 8MB of RAM. Print isn't dying... it's evolving. And it's getting stronger, faster and better. So are we.
Seaway has the perfect equipment mix to handle your next project. We feature the best combination of production color and black-only digital devices, plus half-size and 40" litho offset equipment. In fact, we have the newest, latest, and greatest 40" offset press in Wisconsin! If your project demands only the best, then look no further. We're proud to say we're an "all-Heidelberg shop" and loaded with real craftsmen with hundreds of years of combined experience.
Work with us, and you'll have access to our powerful customer-facing portal, designed to streamline print production and the process of job submission, online proofing, and job status tracking. Expect reduced turn-times, lower proofing costs, and enhanced customer communication. You have enough to worry about—we've made this easy.